Luke Smith
25 Jul 2017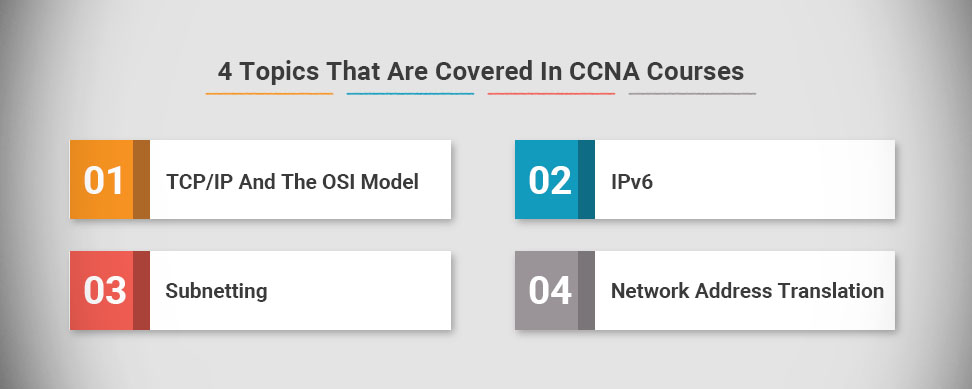 Topics Covered In CCNA Courses
4 Topics That Are Covered In CCNA Courses
If you're looking to progress your IT career then taking the Cisco Certified Network Associate (CCNA) may be the way forward for you.
It's a well respected qualification that shows you're up to date in your networking sector. Here are four topics that are covered in the CCNA, and how they can help you in your career.
1. TCP/IP And The OSI Model
The Open Systems Interconnection is a way of standardising communication within network systems. The CCNA exam requires you to understand how this system breaks down communication into layers, and how they communicate with each other.
The Transmission Control Protocol and the Internet Protocol are two different networking based models, but they're both used to illustrate the way standard data transmission works online. Knowing how these both work will be essential in any CCNA courses you undertake.
2. IPv6
IPv6 refers to Internet Protocol "version 6". This latest iteration of Internet protocol gives more unique IP addresses, which are needed in times of business growth. Most businesses are now running on IPv6, so as a technician you will need to have knowledge of IPv6 in order to be a valuable asset.
3. Subnetting
Subnetting is a common network strategy that breaks networks into smaller components. Each subnet has a unique IP address, which interfaces with the group of subnets as a whole.
There are good reasons why this is commonly used in networks. One reason is because it makes it easier to diagnose and isolate issues when they occur. Secondly, you can then work on fixing an issue without taking the rest of the network down.
4. Network Address Translation
This is the process of modifying IP addresses in transit between two incompatible systems. It's becoming more commonly used in businesses as BYOD, or Bring Your Own Device, is becoming more popular in businesses.
Basic NAT is used to connect a user's smartphone or tablet to the network, and allow them to access network data. CCNA courses will cover basic NAT techniques, but there are more advanced courses available that you can pursue if you want to expand your knowledge.
Here at Silicon Beach Training, we have several courses, such as the CCNA training course, CCNA security training, and CCNA voice training, that can prepare you to pass your CCNA exam and find new opportunities in your industry.
If you're interested, get in touch. We can answer any questions that you have, and help you find the right course. We'll help you to acquire knowledge concerning CCNA, whilst obtaining this sought-after certification.
Posted under: