Aaron Charlie
27 Feb 2013
Marketing Your eBook with Social Media
Marketing Your eBook with Social Media
After coming on our InDesign eBook course you'll be able to create and publish your eBook; but what's the next step? Ideally you want people to read it, which means that it's time to begin the marketing process.
As much as you'd like to think you'll have people queuing at the virtual door to download your book, the likelihood is no one will know about it unless you tell them about it.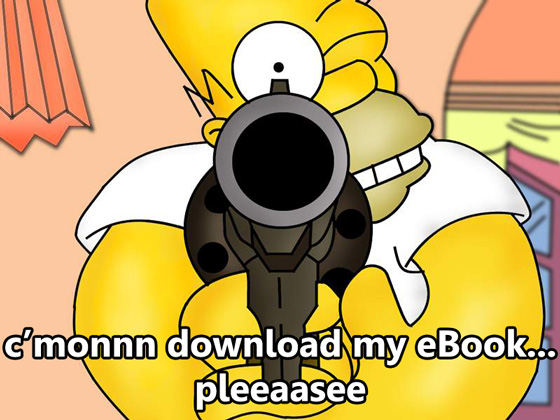 So how would you even begin to go about marketing an eBook? Let's assume you have a decent site and blog (if not you ought to come on our 1-day Blogging and Content Marketing course to find out why it's essential!) as a base from which to 'flaunt your wares'.
A good start, especially for a product like this, is to embrace social media. Used alongside content marketing and email marketing, social media marketing can be an effective tool to market an eBook.
Before you just jump straight in though, it's important to know how this strategy can benefit you.
Social Media Marketing
Social Media is no longer just a useful add-on to
a business marketing strategy - it is a marketing strategy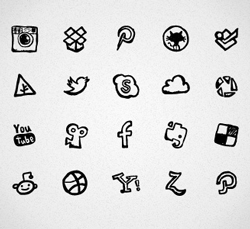 in and of itself
Each platform has it uses and can be highly effective depending on the type of
material you're publishing and the audience you want to reach.
Ideally, you'll have already built up some kind of presence on at least
some of the big networks (take a look at this managing networks guide
if you're struggling with keeping tabs on them all)- it makes it much
easier when it comes to marketing and selling.
If not, it would be worth coming on our Social Media training course to give
you an idea as to how to really utilise social media to develop your 'brand'.
If you're ready to go ahead with marketing, keep reading and we'll take a look at how you can make the most of the big players
on the social scene -
The Big Six
As you should be more than aware of by now, Twitter is all about brevity and simple and effective calls to action. Facebook is entirely different it always for more dynamic content with on-page images and less constricted word-space.
LinkedIn is ideal for anything business related and works almost as a forum for generating, constructively debating and discussing ideas. Google+ is the new kid on the block but is quickly becoming a marketers favourite thanks to its easy to use interface, fresh design and integration with other Google products (among other reasons).
Image-based sites Pinterest and Instagram are fantastic platforms for engaging with your audience on a level beyond just text and provide marketers with the opportunity to create eye-catching content. If you have a striking front-cover or an image-heavy eBook, then these sites could be ideal.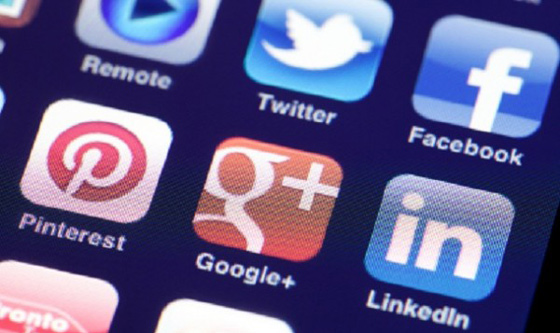 There are plenty of other social sites that can be used as part of an effective marketing campaign and it is essential to keep an eye on new trends as well as exploring to find sites that suit your niche best.
Don't neglect YouTube or bookmarking sites like StumbleUpon either - they are obviously hugely popular. However they aren't entirely definable as traditional social networks and so to start with, these other 6 are the main sites that you really need to be making the most of.
Before you jump in to every social network open to you, take a look at this checklist of things you need to do to create an effective eBook marketing campaign -
eBook Social Media Marketing Checklist
Some of these tips can be applied to marketing generally but that doesn't make them any less effective or relevant for the specific purpose of marketing an eBook.
1/ Use your 'own' voice as far as possible and think about keeping close
to your eBook's writing style too. Don't try to sell your eBook in a way that
feels unnatural to you because it will make your audience uneasy from the start.
Remember that that it's all about 'enhancing your brand'. if someone is
downloading or buying your eBook, they are buying into you. Make your social
profile and your eBook personable, personal and above all, natural.
2/ Remember the hashtags. It's become obvious to use hashtags on Twitter
but it's something easily forgotten on Google+. Find popular topics that are
trending (make sure they're related to your eBook!) and use the '#' to hop on board.
Even think about creating a hashtag of your eBook's title or a related phrase and
use it every time you tweet or post about it - if momentum picks ups you could
end up with an easily searchable and identifiable addition to your 'brand'.
3/ Follow the right people. If you're not following the influential people in your
niche, now is the time. Chat to them, retweet them, do anything a normal person
would do! The best possible result of this could be that you get an 'organic' share
from them when marketing your book, but if you've built up a rapport then asking
for a share may not be out of the question.
Getting a retweet from someone with influence can open up a world of opportunities to get your marketing message to people you'd otherwise be unable to reach, and who will be more open to it because of your association with person x who they follow and admire.
4/ Engage with people. Surprisingly, social networking is about... social networking! I know, I know - shock revelation there. What that means is that if you're using a network just as a mouthpiece to shout about your product, you're doing it wrong.
Twitter is the perfect platform for both small talk and witty, friendly back-and-forths so use it to talk to all kinds of people about all kinds of things.
Google+ and LinkedIn are perfect for stirring up debate and having deeper, longer and more though-out conversations. They are also fantastic arenas to gain feedback on your ideas. Pinterest, Instagram and other photo sharers are brilliant for creating a personal touch and developing that brand of yours (pet and food photos are pretty much the currency of these kitsch lifestyle/business hybrids!).
Using all of these sites in this way, aside from providing you with a base of followers who will be more open to buying or promoting your book, will make you friends and allow you to have fun along the way.
5/ Be topical. One of the more annoying traits of marketers on social media is the tendency to stick to their planned out formula - a tweet about the product at 10, a Facebook post about a deal at 12, a motivational quote poster on Pinterest at 3. It gets boring and feels lazy and robotic.
Be topical - if something newsworthy happens, and you have something funny or interesting to say about, just go for it!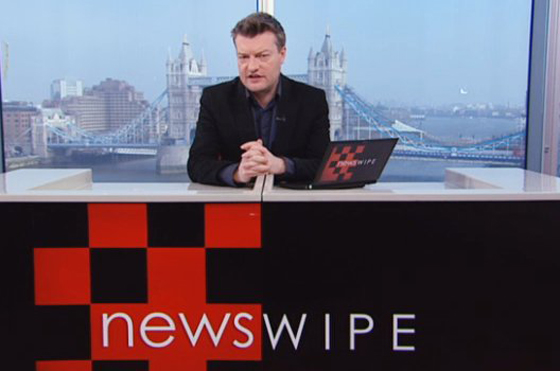 It's so much more endearing to an audience to see that there's a real person behind the screen having real thoughts and reactions to real stuff. Of course this can go too far the other way.
6/ Set up authorship. If you haven't done this, do it now! It is becoming more and more important as a means to being able to be found in Google and is another reason that a Google+ account is vital.
Linking your G+ profile with any articles you have written and to the sites you contribute to means you are able to tell Google that you are a respected authority and Google will then rank you, your page and your eBook higher in search results pages.
Take a look at this post for a more detailed account of why authorship is so important and this post from Google itself shows you how to go about setting it up.
7/ Measure everything. Find out what works and what doesn't by using analytics tools. Facebook insights is great to gauge the effectiveness of posts and you can use Google Analytics to see which networks are sending the most traffic to your site and manage the time spent on each accordingly.
Being able to analyse demographics and your audience means that you can decide how to 'pitch' your promotion of your eBook. I might even surprise you the sort of people who are interested in what you've written.
Having facts and data makes decisions about strategy much easier. Which leads to:
8/ Have a Strategy. This is essential for the successful marketing of anything but especially a digital product like an eBook. Whilst spontaneity and topical posting can be great (as said above), having an overall strategy and clear idea of what you want to achieve and how you're going to go about achieving it is a must.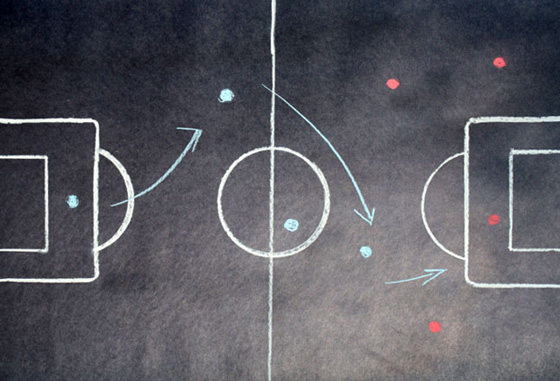 Content marketers use a content calendar; you can do the same in terms of how you plan your time on social media. Using the data at hand (as outlined above) make decisions about where your priorities should lie and the type of content that works best for you on each site.
Final Thought
Don't be put off social media marketing as a strategy because of the effort or risks that are involved - the potential gains are immense. As a somewhat intangible product, an eBook is actually perfectly suited to being marketed through the less traditional forms of media.
To really get to grips with the full marketing repertoire, it's worth taking advantage of our SEO and Social Media Pick 'n' mix deal - you learn everything you need to market your eBook through every available channel.
Posted under: