Charles Byard
29 Jul 2015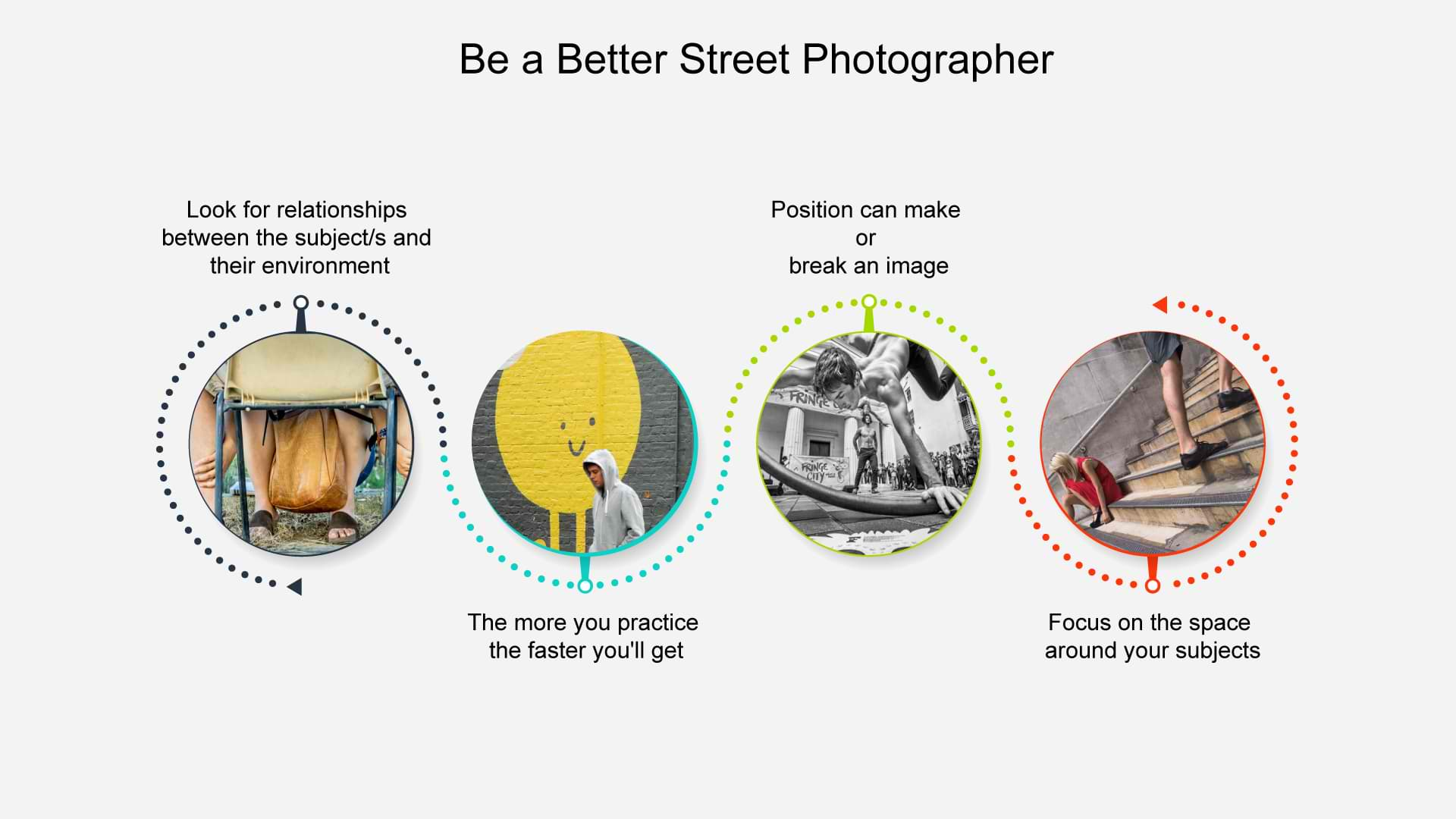 Be a Better Street Photographer
Most people have the tools available to try their hand at street photography. You can use your phone, or compact, many people have DSLR's even though many don't really know how to use the technology that's packed into them. It's something you can do in your lunchtime, at weekends, or on holiday. It's not all about the tools though, giving someone a hammer and chisel doesn't make them a sculptor. One thing's for certain though, there are concepts and techniques that people can learn that will improve their street photography, and have fun while learning.
Also worth noting for those interested in content marketing, a picture says a thousand words, improving your photography can pay dividends for sprucing up your content and avoiding all those uninspiring and cliche stock images.
Our street photography courses here at Silicon Beach Training are provided by award winning photographer Heather Buckley. We asked her a few questions about how to improve your chances of getting an interesting shot, and some techniques that you could use, not only for street but to improve all of your photography. There are a couple of places left on the next course, but they do fill up quickly, so call if you are interested.
You have provided many photography courses, what are some of the common problems that people have when sent out into the street to take pictures?
Heather: Many people don't see the interesting potential in what is right in front of them. I am constantly looking for things that can relate to each other.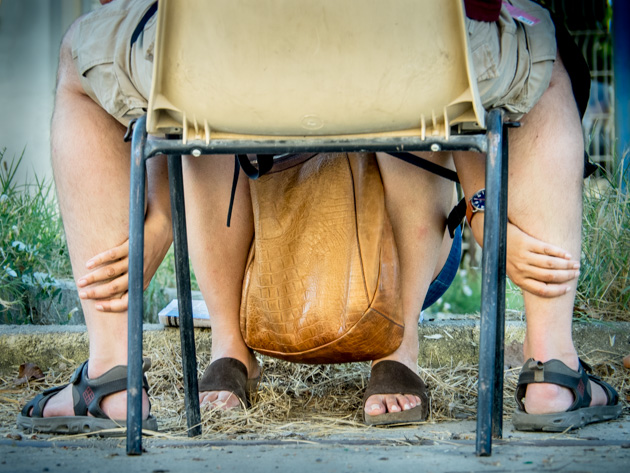 Look for relationships between the subject/s and their environment
It could be two people, a person and the background, a person and an object. The important thing is they need to relate to each other in an interesting or meaningful way. An easy way to start taking these types of images is to find words or images on posters, signs or graffiti, and put them in the frame, carefully position yourself to make the best composition and wait until the right person appears in the right place.
Here's a good example taken by one of my attendees on the street photography course. Martin Riely had very little photography experience before the course, I love this image, he took everything in and ran with it, he even enjoyed it so much he came back and did another course! He waited a while for this shot, got many images but this is the one. I love the way the young man matches his background, and the way he obliterates the 'O' making the sign say hell. It has everything going for it, palette, composition and humour.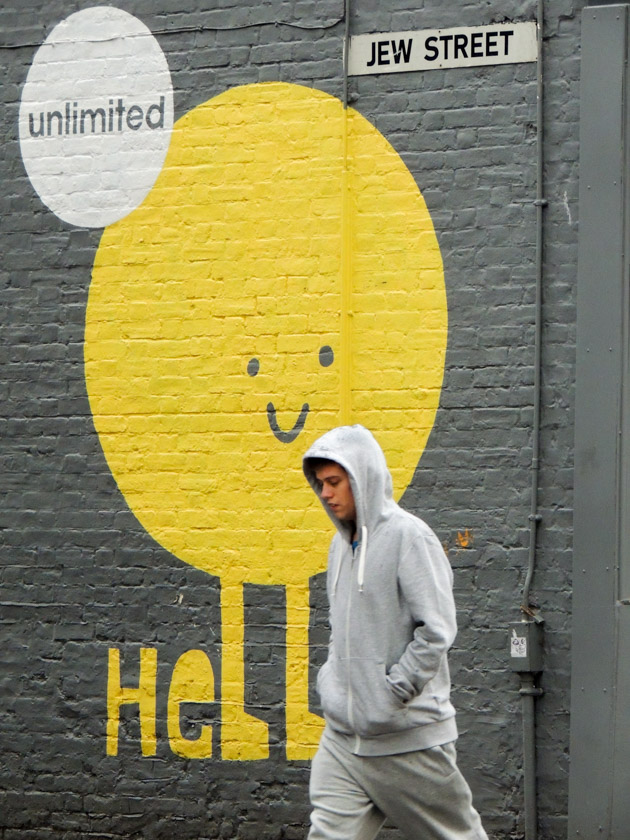 The more you practice the faster you'll get
Sometimes things happen very fast, you get faster with practice, I often have to remind myself to slow down when I'm demonstrating or doing my one to one's on the day. But the reality is the faster you are the more images you can bag because the less moments you will miss. Life happens fast, everything is constantly changing, the more practice you get the easier it is to make decisions about angle and composition almost instinctively.
Street photographer Joel Meyerowitz once said of Garry Winogrand that he "set a tempo on the street so strong that it was impossible not to follow it. It was like jazz. You just had to get in the same groove."
The next image is all about timing, I took this while demonstrating a technique on my festival photography course.
Position can make or break an image
A concept that some people take a while to understand is that their position makes the world of difference. Your position can turn an OK image into a great one. For example, if your image is about symmetry and the graphic use of space, then it makes sense to adjust the height of the camera, and your position so that all of your verticals are vertical and horizontals are horizontal. You may be only moving a few inches, but it can make a huge difference to the lines in an image.
This also applies to wide angle shots, wide angle lenses distort the perspective, often creating very strong diagonals. Position your camera so that the diagonals pull your eye towards your subject, lining them up with the corners of the frame often works well, it's all about positioning.
Focus on the space around your subjects
Another thing that it takes some people time to realise is the importance of space in an image. Subjects need space to breath, sometimes a fraction of a second makes the difference between people being clear and distinct or confused and messy. Try to isolate your subjects and leave a little space around them if you can. Again your position can make the world of difference, you can isolate your subject from distracting things in the background by a simple step to the left or right. Don't crop too tight above the head or under the feet (unless you want to deliberately make it look like they are standing on the bottom of the frame). Also when an image is all about the composition, the spaces and shapes around your subject are as important as the subject itself. It's often the empty spaces that create a great composition.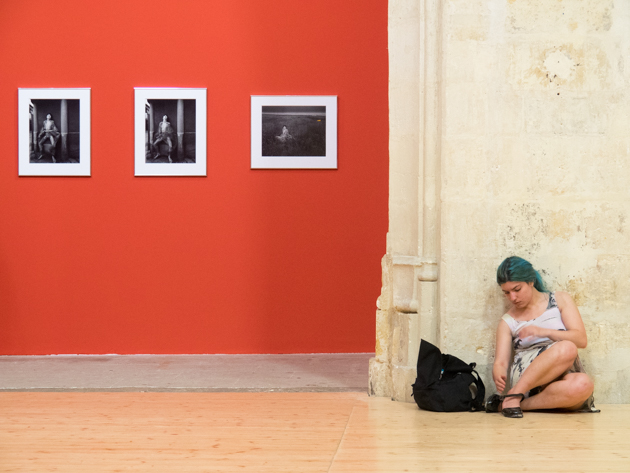 Are there some common technical mistakes that people make?
Heather: Yes there are some quite specific ones. Some people's exposure is all over the place. I have discovered that the most common reason is that they have their camera set on spot metering. Many of my clients are photographers from a different genre, like landscape, or studio. They often set their exposure settings to spot. On the street it doesn't work, the light is very varied and if they are spot metering on something very dark or light they will constantly be over or under exposed. I find that matrix metering is most reliable for most street photographs.
Many cameras now have so many settings that clients often have something turned on or adjusted and they don't realise it. They may have colours set to vivid, which can blow all their highlights and over saturate their colours for example. I recommend resetting the camera from time to time, especially if you are getting unexpected results and cannot work out why.
The term street photography is usually applied to candid shots, you often take portraits in the street is this truly street?
Heather: The purists say not, but I'm not one for rules. Elliott Erwitt interacted with his subjects. I do both and I when I'm shooting in the street I consider myself a street photographer. I look for the opportunities that life throws at me, act fast and try and make sense of the chaos. When it happens naturally, and I manage to catch it, it's a wonderful feeling, the best, but if I see an opportunity to put two random things together in an interesting way I'm not going to let is pass by, sometimes I will make it happen. It's all street to me. In fact, I'd go as far as to say in many ways it makes some of my work more distinctive. It's takes a little guts to ask a stranger to do something, but once you start doing it it get's much easier. I get some great street portraits that way.
In this image I needed to get close so interaction was essential (often the way with my shots taken with a wider lens). This image wouldn't have worked unless I lined my subject up with the background. Get your subject in the approximate position, and then move yourself around to line things up rather than bother them with slight adjustments.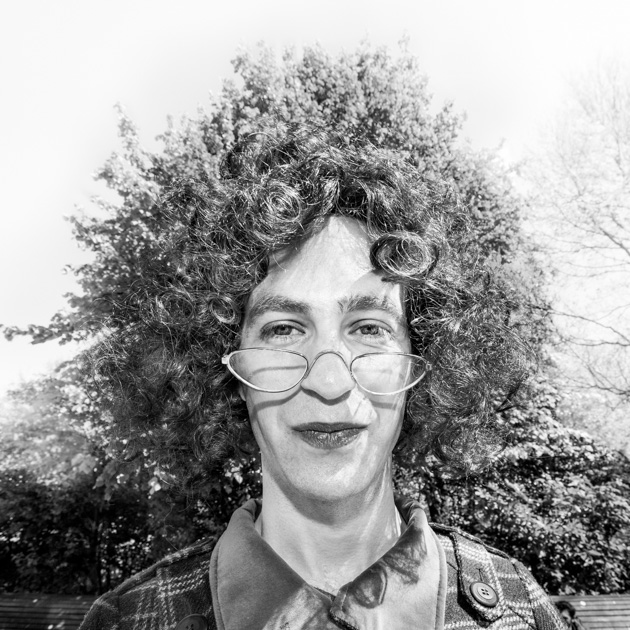 What do you say to people when you want to take their photograph?
Heather: I usually tell them why. It's often a question they ask me, I tell them the truth. If I ask someone if I can take their image it will be because there is something special about them that I love, their eyes, their hair, their clothes etc. I will tell them what it is about them that I love and usually it's enough.
You can meet Heather and learn more about the way she works on her street photography courses in Brighton. She makes time for everyone (that's why we don't have more than 6 in a group) to have some one to one attention whist shooting the eclectic streets of the North Laines and then down to the sea and the pier. She will also review your images at the end of the day and show you a few of her processing techniques. Her clients range from professional photographers to complete beginners, it's fun and you'll definitely learn something whatever your background. Call 01273 622272 to book. It's also possible to book private courses, she has provided training for the public sector and businesses to improve their in-house photography for marketing use.