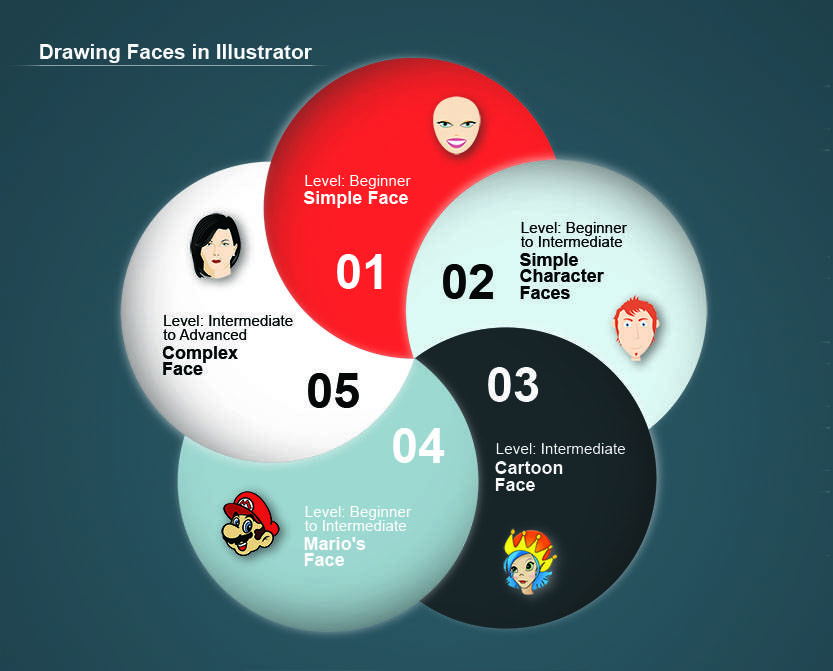 Drawing Faces in Illustrator
Being able to draw and create various types of human faces in Adobe Illustrator is a useful skill to have as a designer, which is why on our Illustrator Training Course you'll learn everything you need to be able to begin these sorts of drawings.
Even if your usual subject isn't people, you never know when having this ability could come in use - a client might want a mascot for a campaign or maybe you just want to draw someone for fun.

There are hundreds of tutorials available online but finding the right one for you can be difficult - do you want to go down the cartoon route or be more realistic? Simple or complex?
Luckily we've put together a list of 5 of the best tutorials available on the web today, each for a different type of face so you'll be able to draw everything from famous cartoon characters to ultra-realistic portraits in no time.
We've also added a difficulty rating to better help you judge whether you'll be able to manage the tutorial.
1/ Simple Face
Level: Beginner
In this Simple Face tutorial you learn the basics of drawing simple faces. This is ideal for those new to Illustrator, who might have some experience with the program but none with drawing faces.
Aaron Charlie
13 Mar 2013